Thank you for joining my online membership platform.
The link to join the portal can be found by clicking here.

After clicking the link above you will be presented with one of 2 options.

1. If you already have an account with the CoachNow platform. You just need to log in using your existing Username and Password.

2. If don't have an account with CoachNow you will be taken to a registration page that looks like the one below.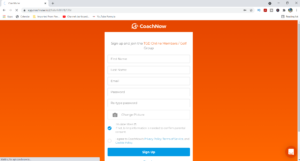 This will take you straight into the portal.

If you have any issues contact me on brian@thegolfdoctor.com.au

I look forward to helping you improve your golf.